Shipping & Handling Labels — Fragile, Toxic & More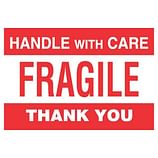 Accurate, Safe Labeling of all Shipments
Ensure that your shipping and handling processes are safe and compliant with the help of these shipping and handling labels from The Supplies Shops. We strive to provide top-quality national and international safe handling labels which adhere to all regulations set forth by the U.S. Department of Transportation (DOT) as well as international standards. We have a handling label ideal for your unique shipments and packaging, whether you need to label boxes, pallets or any other surface with highly visible handling instructions that stay in place.
Hazardous Materials Labels: Shipping and Handling Safety
The DOT requires that businesses and individuals place labels on packaging that contains hazardous materials — including those that are explosive, flammable, poison, corrosive, electrostatic and more — using special placards featuring proper wording and symbols. For labeling contents that should only be opened in static-free work areas, consider our anti-static labels. For safe handling of hazardous materials, we have pre-printed hazard labels, subsidiary risk labels, glass and liquid labels, hazardous waste labels, and much more. They all provide clear messaging and bold colors to prevent injury and incident.
We can also help ensure that your shipments get to their final destination without damage using high-quality fragile and handle with care labels as well as arrow labels that ensure proper stacking, transport and handling. Most of our hazardous materials and fragile labels come in convenient rolls of 500 and are made in the U.S. for excellent quality. As your go-to resource for all business labels including custom label orders, The Supplies Shops is happy to work with you on all your orders. For assistance, reach out to us at [email protected] or 855-632-8520 and we'll be happy to help you with your order.
---