Indexes — Copier Tabs, Legal Index Dividers & More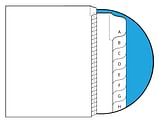 Indexes, Tabs and Dividers
Enhance your organizational efforts and boost productivity with the help of indexes and dividers from The Supplies Shops. These premium-quality products are designed to help you create orderly cases, files and exhibits with minimal effort. It doesn't matter if you're looking to start a new system from scratch or want products to integrate with your current one, these versatile solutions will help you build a more efficient, streamlined process no matter your business or industry. A huge assortment of options is available to suit your needs.
To create a totally customized filing system without the need for a costly custom order, invest in our printable index tabs. These copier tabs are specially designed to go through high-speed copiers without jamming and allow you to print custom labels as needed to save time and money. We also have a huge assortment of pre-printed legal index dividers that come ready to use in many common professional applications. Shop tab dividers with numbers, letters and more in different positions to suit your specific configuration. Durable, high-quality materials ensure that these products stay in great shape, even with regular handling.
Exceptional Customer Service and Support
The Supplies Shops is happy to assist with whatever quantity of copier tabs and legal index dividers you need, whether it's a small or large order. Just remember to stock up today to enjoy free shipping on orders over $99. If you have any questions about these products — or any of our other premium quality business supplies — please reach out to us by email at [email protected] or toll free by phone at 855-632-8520. Our experts are eager to assist you with your order, no matter how challenging or complex. You can even create your own custom file dividers with us to make sure your filing system is exactly what you envisioned.
---