Thermal Transfer Labels — Ribbon Required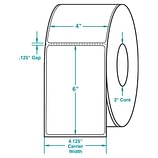 Reduce Maintenance with Thermal Transfer Labels
This selection of thermal transfer labels from The Supplies Shops includes all of our printable labels compatible with ribbon printing applications. Unlike direct thermal labels, thermal transfer labels are compatible with machinery that utilizes a thermal ribbon between the print head and the label paper. This can help lengthen the life of the print head, reducing costs and maintenance associated with printing. They're great for printing a wide range of professional labels, including barcode labels, shipping labels, price tags, rating and serial plates, laboratory patient tracking, inventory control and much more.
An Option Available for Your Specific Job
We have a wide variety of blank thermal transfer labels to suit your specific needs and requirements. For day-to-day use, we recommend our standard (roll) and fanfold thermal transfer labels. Offering superior print quality with a smooth surface, these labels are an economical option for industrial, healthcare, retail and more. Specialty options are also available to suit more demanding environments. For example, Kimdura thermal transfer labels are ideal for any environment subject to moisture, direct sunlight, grease, water or chemicals. Similarly, polyester thermal transfer labels are waterproof and tear-proof, making them great for more demanding environments.
If you'd like a premium-quality thermal transfer label roll that will help you simplify your process and boost efficiency, consider wound-in roll thermal transfer labels. These feature a clean release core to ensure no jams occur at the end of the roll. With free shipping on orders over $99 and excellent customer service, The Supplies Shops is always available to assist you with anything and everything related to your label printing process, including custom business labels. Don't see a ribbon label to suit your needs? Write us at [email protected] or call us toll free at 855-632-8520 and we'll gladly work with you to find one that does!
---