Void Fill Packing Paper, Box Filler Paper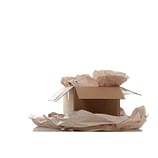 High-Quality Kraft Box Filler Paper
One of the most effective ways to protect your products during shipping is with kraft packing paper from The Supplies Shops. Void fill paper is used to fill the excess space in boxes to prevent your items from shifting and breaking during shipment. This will help limit your returns and increase customer satisfaction knowing items were properly protected during shipment. Our fan-folded kraft packing paper can either be used manually when picking and packing orders or with automated machines.
Our void fill packing paper is made from 100% recycled kraft paper, so you can ship in a more environmentally friendly manner than using plastics to fill empty spaces in shipping boxes. This versatile void fill packing paper can help cushion items and hold products in place, but it can also be used to wrap fragile items or to enhance the unboxing experience for your customers. Since our void filler paper comes in manageable, individual sheets of either 24 x 11 inches or 15 x 11 inches, it's quite a versatile option to have on hand in your shipping or packing facility.
Need Help? Contact Us
At The Supplies Shops, we strive to provide you with a personalized experience every step of the way. We can also work with you to create custom shipping solutions, including custom-printed tape, to add a professional flair to your correspondence. If you need help with your packaging paper order or would like to inquire about custom solutions, please reach out to us at [email protected] or call us toll free at 855-632-8520.