Janitorial Supplies & Office Cleaning Supplies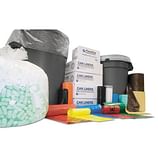 Quality Janitorial Supplies
It doesn't matter if you run a full-scale janitorial service, are a professional custodian or simply want to help keep your office as clean as possible, The Supplies Shops has the cleaning products for the job. We cater to companies of all shapes and sizes, offering volume discounts and free shipping deals to help you stay under budget no matter what. Explore professional janitorial supplies to keep every corner of your facility neat, clean and up to code at The Supplies Shops, and enjoy free shipping on orders over $99!
We have an array of office cleaning supplies to suit your needs. Ensure safety with first aid and health supplies for the office, including professional-grade first aid kits that contain many of the supplies you need to address common injuries and accidents in the workplace. We also provide companies with eye wash stations and blood cleanup kits to help guarantee that their workplaces are up to code and safe for all visitors and employees.
Top-Quality Office Cleaning Supplies
You'll find safety and security gear here as well, including disposable shoe covers, coveralls, arm sleeves and face masks to keep your employees safe from pathogens, hazardous materials and more. Our selection of gloves and glove dispensers includes a style ideal for your janitorial needs, with options to protect skin from cleaning chemicals, paint, and more. We can also help you keep your facility's bathrooms clean, sanitary and well-stocked with restroom cleaners and accessories from The Supplies Shops.
If you don't see what you're looking for here, be sure to take advantage of our excellent customer service. Get in touch with us at [email protected] or call us toll free at 855-632-8520 for personalized advice.