Food Service Supplies — Apparel, Accessories, Cutlery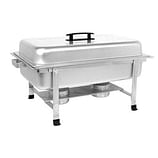 The Best in Bulk Food Service Supplies
The Supplies Shops is happy to provide restauranteurs and food service professionals with top-quality, affordable restaurant supplies that make their jobs easier. It doesn't matter if you run a full-scale catering business or you're simply restocking the shelves of the office kitchen, our selection simplifies the job with affordable, useful solutions. With free shipping on orders over $99 and a track record for unmatched customer service, The Supplies Shops is your partner in food service supplies, and we can help you earn five stars from customers!
Food Service Essentials for Less
We can help you and your team keep your food service environment safe, clean and up to health code with affordable food service apparel, including bulk hairnets, aprons and accessories. Whether you need heavy-duty vinyl aprons for your demanding commercial kitchen or economy options for volunteers at the food fair, this is an excellent place to shop. We also offer an expansive assortment of bulk plastic cutlery in various weights and styles, including forks, knives, teaspoons, soup spoons, soda spoons and napkins by the case. Stock up now so you never run out when feeding hungry customers!
Peruse our selection of bulk plastic straws and kitchen supplies to stock your food service business's shelves with day-to-day necessities at an excellent price point. We're also available to help supply specialty shops with the necessary gear, including pizza shops. Our goal is to provide you with the business supplies your company requires to thrive on a budget, so if you don't see what you're looking for, you can always reach out to the team here at The Supplies Shops for assistance. Get in touch at [email protected] or 855-632-8520 today.