Filing Accessories — Dividers, Pockets, Binders, Labels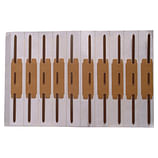 Cutting-Edge Filing Solutions for Any Business
You've already got the files and the cabinets, and now all you need are some high-quality filing accessories to help you get the most out of them! The Supplies Shops has one of the best selections of smart solutions to help revolutionize the way you file, with professional accessories that address a wide range of office challenges, from helping you get more organized to protecting your most sensitive documents from damage or tampering. At the end of the day, these accessories will help you save time and money with a relatively small investment.
Problem-Solvers That Eliminate Filing Guesswork
Increase organization and keep everything neat and tidy with specialty pockets and fasteners from our store. The right fasteners can help ensure that all of your documents stay in the right place at all times, preventing paper jams and lost documents. Explore self-adhesive fasteners, space clip fasteners, fileback fasteners and more for the job. To protect your most valuable and sensitive documents, be sure to explore our array of document holders, photo boxes, sheet protectors and folder protectors. These products are uniquely designed to add an extra layer of protection to your docs, artwork, photos and certificates.
We're in the business of helping our partners create clearly labeled, easy-access filing systems that are as neat and orderly as it gets. To achieve that goal, try our name labels, self-adhesive dividers and other brilliant problem-solvers that prevent filing-related headaches.
Top-Notch Service & Custom Orders
The Supplies Shops is happy to offer excellent bulk pricing and free shipping deals so you always get the office supplies you need within your budget. You can also save time while you stay organized with custom labels to suit your daily labeling needs perfectly. Have questions, concerns or comments? You can always get in touch with us via email at [email protected] or call us toll free at 855-632-8520.