Conversion Filing — File Backs, Convert-A-Tabs & Labels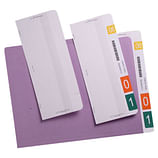 Convert Top Tab Folders to End Tab Folders
Sometimes it doesn't make sense to stick to a single method of filing, which is why we offer these unique conversion filing solutions at The Supplies Shops. All of these conversion products allow you to convert top tab folders into end tab folders so that you can quickly and easily adjust the way you file based on your cabinet and specific filing system. These products can help save you time, effort and money by allowing you to turn your once-incompatible filing supplies into compatible solutions.
Want to turn your top tab folders to end tab folders easily? You need a set of our conversion file backs. To transform a top tab folder, simply apply the file back to a fastener in your existing folder and the file back will add a perfect fitting end tab for your open-shelf filing applications. These heavy-duty manila folders are designed to withstand regular handling, and we can even create custom color coding for you to save you time. Solutions such as Convert-A-Tabs can also help you quickly and easily convert top tab folders to end tab folders.
Conversion Labeling Solutions
Now that you've effortlessly swapped orientation, how do you handle the challenge of labeling? Our opaque conversion labels take the guesswork out of labeling your converted files because they feature a simple peel and stick design that wraps around the old label so you can start from scratch with a new system. We are also happy to help you design custom color coded conversion labels to suit your specific job or application. Free shipping and excellent customer service make partnering with us a breeze! Questions or concerns? Reach out to us at [email protected] or 855-632-8520.