Collated Paper — Collated Carbonless and Copy Paper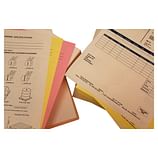 Multi-Use Collated Paper for Your Business
Need to create sequenced documents, multi-part forms, packets or bound books? The Supplies Shops can help with high-performance, print-ready collated paper. The term collated refers to the arrangement of individual sheets into a pre-arranged order. Pre-collated paper is great for helping you quickly and sensibly organize longer, multi-part and sequenced docs. This type of paper can save you time and money on all your large paper-based projects. With carbonless collated paper and copy paper from The Supplies Shops, you can streamline dozens of processes.
Carbonless Collated Paper
Our selection of pre-collated carbonless paper comes in two- and three-part configurations as well as multiple colors and sizes. Carbonless paper (also referred to as NCR paper) allows you to produce crisp, clear images right down to the last page of the form. Commonly used to create invoices, delivery receipts, purchase orders, packing lists and medical forms, this type of paper is a versatile time-saver that works in laser, inkjet and digital printers. Straight and reverse sequence options are available depending on how your printer loads and feeds the paper to help simplify the printing process so you dont have to rearrange copies.
We also carry a great selection of regular pre-collated copy paper that's commonly used as a substitute for regular white printer paper to distinguish customer copies. Two- and three-color sets are also available in this format to suit your specific application. Whether you're in the market for carbonless laser paper or collated colored paper, The Supplies Shops can assist. Don't hesitate to contact us at [email protected] or 855-632-8520 if you have any questions about the products we offer or would like to place a custom business form order.
---