Workplace Compliance Posters & Labor Law Posters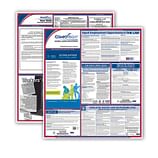 Compliance Posters and Products
Keep your workplace compliant and prevent liability with these essential workplace compliance posters from The Supplies Shops. These posters help employers successfully navigate regulatory compliance at the federal and state level while reinforcing important messages to employees and partners. With 100% compliant labor law posters, healthcare compliance posters, employee record keeping posters and more, The Supplies Shops has the options to suit your industry. Bilingual posters are available to serve your entire workforce.
Posters Compliant with the Most Current Regulations
Whether you want to hang a HIPAA poster in your doctor's office or remind your workforce of key employee rights, you'll find the ideal solution in our selection. We offer an array of options by compliance leader ComplyRight, including premium laminated posters that stay in great shape no matter how demanding the environment. Find federal and state labor law posters with options for every state in our selection. These posters clearly highlight the most recent posting changes to keep your employees informed.
We also have an assortment of medical and healthcare compliance posters to keep your hospital, doctor's office or medical facility compliant under the most recent state and federal laws. Human resources professionals will want to explore our selection of employee record keeping compliance products, including attendance calendars, training posters, request and approval forms and more. Make sure to stock up on options for every department and facility and enjoy free shipping when you spend $99 or more.
As your go-to partner in all things related to business forms and supplies, The Supplies Shops can assist you with any compliance poster need. For assistance or to place a custom order, please get in touch at [email protected] or 855-632-8520.
---