Integrated Label Forms, Business Forms with Labels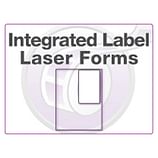 Integrated Labels and Form Sheets
Streamline your printing needs by using these integrated label forms from The Supplies Shops. These paper sheets combine a traditional business form with a removable label to give you a single, easy-to-print document. And since these forms are compatible with laser and inkjet printers, you don't need any special equipment in order to start using them to make your office more organized. You can save money and create more efficient printing processes by using these handy integrated label sheets. Choose from a variety of layouts and specifications to get the right form for your business needs.
Integrated Labels Made Easy
There are a number of important benefits that come with switching to integrated label form sheets from The Supplies Shops. By using integrated forms, labels don't have to be printed separately. That reduces your costs significantly because it eliminates the need for multiple documents, printers and types of media. Because everything is printed onto a single sheet, it also increases accuracy and efficiency. With all of the necessary information on one label form, it eliminates the risk of sending out forms and labels that are not matched up correctly.
The quality of the image and text on your integrated labels is also improved when you use these forms. Our premium-grade 24# white laser bond stock paper with round corner labels provides higher-quality output with vivid graphics, clear text and crisp barcodes from almost any laser or inkjet printer. Your business will also be eco-friendlier when you use this type of integrated form, since you'll be printing fewer pages and creating less waste. Using integrated label sheets is a great way to simplify your printing processes and make your business more efficient.
We have an integrated label form option to suit your unique needs, no matter if you're using these sheets for organizing, inventorying, warehousing, shipping or any other purpose. Whether you want to print a single label or several within your form, we have the right size and configuration for the job. Explore our entire selection for integrated label paper that will seem custom-made for your specific project. Popular label sizes like 3.5 x 2 inches and 4 x 6 inches make implementation a breeze in your specific business application. And if you're not sure which size or setup is best, our team is always happy to help.
Uses for Integrated Label Forms
The Supplies Shops' integrated label sheets can be used for a number of critical business applications and purposes. Use paper with labels at the bottom for registration forms or pharmacy labels to make sure that customers also receive the correct label based on their personal info. Choose a form layout with a large integrated shipping label to create pre-printed shipping labels for easy returns when you send out products to your customers. These label form sheets can also be used for transportation and logistics shipping orders, warehousing and distribution pick tickets and packaging slips, marketing pieces, confirmation forms and many other important applications.
At The Supplies Shops, we offer dozens of designs and form types to help you create custom integrated label sheets for your unique business needs. Choose a configuration for your form that makes sense — label on top, form on bottom; form on top, label on bottom and so on. We also have paper forms with small labels in the corner so you can peel off a label as needed but leave plenty of room for providing or collecting information. For a streamlined solution that saves time on larger jobs, select an integrated label form sheet with up to four labels across the bottom of each sheet.
Quality Labeling and Filing Solutions
With volume discounts and free shipping on orders of $99+, The Supplies Shops is a great resource for stocking up on office supplies or specialty items for big projects. Pair your integrated form labels with any of the products in our lineup of envelopes and mailers for a complete business mailing solution.
Our labels department is also an excellent resource for those shopping for high-quality business labels. If you don't see what you're looking for in our selection, we'd be happy to work with you to create custom business labels. If you'd like to start a custom order — or simply have questions or comments about any of our products — feel free to contact us via email at [email protected] or toll free by phone at 855-632-8520. For custom label orders, please fill out our custom label quote form.
---