Thermal Transfer Tag Labels with Perforations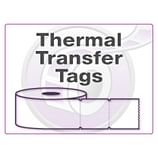 General Purpose Thermal Transfer Tags
Make sure you have impressive-looking labels for your office with these thermal transfer tags from The Supplies Shops. Ideal for a wide range of printing applications—including address labels, shipping labels, general purpose tags, and barcodes—these thermal transfer tag labels with perforations help you produce professional tags while staying well within your budget. These rolls are designed for use with thermal transfer printing (ribbon required), and are smudge- and jam-proof to keep the printing process running smoothly. Switching to thermal transfer printing is an excellent choice for companies looking to streamline operations and improve print quality as the thermal process ensures exceptional resolution for barcodes, graphics and text.
The Supplies Shops is here to help you find the right labels for your thermal transfer job. Premium thermal transfer cards not only help you improve print quality, but they also help you create long-lasting tags that are more durable than standard ink tags. Whether for a large-scale operation or a home business, using these quality thermal transfer cards can help you boost efficiency and lower costs. Because they allow you to print more high-resolution tags in a shorter amount of time, you can count on this technology to cut down on both time and costs for your high-volume jobs.
Types of Thermal Transfer Tags
Our thermal tags come in several size options, all of which are 4 inches wide and come perforated so you can easily separate and administer them as needed. They have no adhesive, but they do feature a durable paper stock construction to suit an assortment of tagging projects. Non-adhesive perforated tags are commonly used for product identification, product tracking, barcoding, and more. You can quickly tag large quantities in your factory, warehouse, or home workspace with high-resolution custom tags. Looking for adhesive options instead? Check out our selection of thermal transfer labels at The Supplies Shops.
As always, you can trust us to help you find the size and quantity you need for your specific job. We sell these tags by the carton (four rolls, 600-1,300+ tags per roll, depending on size) so you always get enough to restock the supply cabinet and never run out. We also offer custom label solutions if you need something specific that you can't find in our online inventory. Be sure to take advantage on free shipping when you spend $99 or more.
Don't See What You Need? Get in Touch!
The Supplies Shops is an expert in all things labeling and our team is more than happy to help you order the perfect labels and tags for your unique application. If you don't see any labels in our selection for your specific job, simply reach out to us via email at [email protected] or call us toll free at 855-632-8520 and we'll happily pair you with the right products. We'll also gladly work with you on your custom label order if you need something personalized for your business. To get started, simply fill out our custom label quote form now!
---