Printable Cards: Business Cards, Postcards, Tickets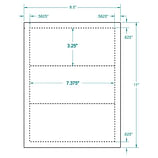 Make Your Own Professional Cards
Save time, money and effort when you make your own cards using these products from The Supplies Shops. In this department, you'll discover a varied assortment of blank, printable cards for making business cards, greeting cards, postcards, index cards, name badges, tickets and much more. These sheets are made from high-quality, durable card stock for a sturdy look and feel and to provide a professional polish to your personal and business correspondence. Explore this selection from The Supplies Shops and stock up to get free shipping on orders over $99.
A Premium Printed Result
Forget the high cost and hassle of custom-designed and printed cards. We have printable card paper that you can print yourself for an equally as impressive result. We recommend choosing a paper based on your application to ensure that you get the right configuration for your project. For example, we have postcard paper, printable raffle ticket paper and index card paper that will help you simplify production of these items. Keep more office-friendly printable card paper on hand in the office — such as our postage tray tag paper and printable business card paper — to uncomplicate creating your own cards for business.
These laser and inkjet cards make custom card printing a breeze. Each one is designed to blend economy with performance and eco-friendliness. They take advantage of the entire sheet of paper, so nothing goes to waste. Each one comes with a coordinating template that is downloadable from our website so you don't waste any time trying to set up your word processor or design program to match up with each sheet. All you have to do is download the template, insert your text or design and then print. It's a low-cost, low-hassle way to make your own cards.
More Custom Solutions
These user-friendly cards can help you save money by making your own promotional materials, business cards and more. Finish off the personalized look for any mailers with custom envelopes to match your theme.
We offer a wide variety of sizes and styles to accommodate your specific project and budget. The Supplies Shops specializes in offering a wide range of card and label printing supplies to help businesses make their own materials for less. If you have any questions or would like one-on-one advice from one of our office supply specialists, please contact us by email at [email protected] or call us toll free at 855-632-8520.
---