Integrated Card Forms for Printing Plastic Cards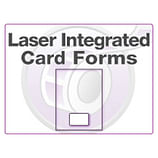 Time-Saving Integrated Card Forms
Simplify your sign-up process with the help of integrated card form sheets from The Supplies Shops. These sheets integrate a plastic card and a form on a single piece of paper, streamlining the process of creating and implementing customer cards. These card forms are ideal for creating ID cards, membership cards, rewards cards, season passes, dynamic promotional mailers and more from the comfort of your own office. Our excellent selection includes exactly what you need to produce thousands of card-form combos quickly and affordably.
Make Membership Cards with Your Laser or Inkjet Printer
You may not think that laser printing on plastic sheets would produce a quality result, but these cards are uniquely designed for laser and inkjet printing. Featuring a lay-flat construction and printer-friendly material, these sheets create vivid images, clear text, and crisp barcodes using your laser printer. The cards are more durable than paper sheets but not as costly as traditionally affixed plastic cards, saving you time, money and hassle. They feature rounded corners and come in options for feeding the printer through the top edge or bottom edge.
If you want to use your inkjet printer to print plastic cards, choose options labeled Inkjet/Laser. These blank durable plastic cards are specifically designed to work with inkjet printers and will even work with copiers. Print up to eight cards at a time using your inkjet printer for an ultra-efficient option. Printable membership cards from The Supplies Shops can help businesses save money by bringing production in-house and making use of the equipment they already own and the processes they've already mastered.
We offer only the best RealCard cutsheets made of premium-grade 24# stock with laser laminate cards, ensuring superior print quality and compatibility with laser printers. The plastic cards are resistant to heat, tears and moisture, so you don't waste money on constant replacements. Options include one- to eight-up configurations to suit your specific needs and preferences. The sheets comes in a convenient 8.5 x 11 size and other common sizes so you don't have to set up any complicated printer configurations.
Custom Orders at Your One-Stop Shop
The Supplies Shops is your one-stop shop for all things related to business forms, and our team is always available to help you with your order. If you don't see the perfect labels for you, we offer custom label orders for that very reason. For one-on-one assistance, contact us at [email protected] or 855-632-8520.
---