Patent Folders, Trademark Folders - The Supplies Shops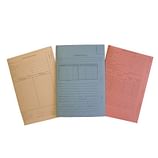 Stay Organized with Patent and Trademark Folders
The patent and trademark processes are complex, requiring many documents and applications along the way. Whether you're an intellectual property professional, a business owner or an inventor, The Supplies Shops is happy to help you keep the process safe and well-organized as you go. Ideal for filing and retrieving documents from your active and long-term filing systems, these patent folders will streamline your workflow and eliminate any hiccups along the way. Stock up on essential filing supplies in bulk so you never run out.
These envelopes are made with a 15-point cardstock construction, which provides exceptional durability as they're being regularly handled. They come in top tab or end tab configurations to suit your filing system and are available in manila, blue or salmon for color-coding.
What's more, these file folders feature top flaps with holes punched for fasteners as well as a bottom flap that keeps contents securely in place. These tri-fold folders have a half-inch expansion capacity, which allows you to fit all the necessary documents as needed. Find all your filing products here to cover both industry-specific and more general filing needs.
Simplifying the Process
Our patent folders come with pre-printed forms that you can easily fill out to help you label and identify folders for easy retrieval and access. Information such as the applicant, inventors, title, serial number and priority field are clearly labeled on the front of each folder. We know that the patent and trademark processes can take years to complete, so we've made sure to create durable, long-lasting folders that will stay in good shape with active and long-term filing. Even routine handling won't cause them to deteriorate.
Why trust The Supplies Shops? We are experts in all things filing and want to help you reinvent the way you organize documents. With the ability to provide custom folder orders and products for any kind of filing system, we're your go-to partner for all things office-related. You may also want to try our custom divider wizard to design your own file dividers to keep your patent folders perfectly organized throughout the filing process. Questions? Reach out at [email protected] or 855-632-8520. Be sure to stock up and get free shipping when you spend $99 or more on legal folders from The Supplies Shops.