Mailers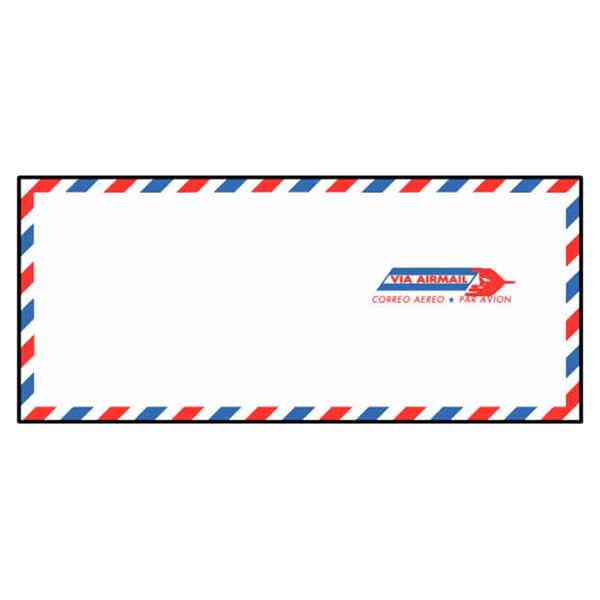 Be prepared to mail items that fall outside the conventional commercial #10 envelope style with our collection of convenient business mailers. Whether you need bulk mailers for one-off projects or ongoing projects, we've got the right style of professional mailers to get the job done. At The Supplies Shops, you can find bulk quantities of Air Mail envelopes, First Class envelopes, padded envelopes, interdepartmental envelopes and much more. Save more on mailers when you order in bulk quantities. We offer Free Shipping on orders over $99, so this is a great time to grab enough to maintain a full supply.
Air Mail and First Class
There's no need to risk paying more money every time you need a supply of air mail envelopes. Our airmail envelopes feature the signature red and blue border design and they come preprinted with postal service air mail insignia (on the front and back) for fast identification while in route to any overseas destination. These number #10 size envelopes are lighter in weight than standard #10 envelopes to keep mailing costs down. While, they can be used for domestic mailings, to avoid running into United States Postal Service regulatory issues, it's best to stick with international use.
Duo-Purpose and Multimedia
Make it easy for recipients of your marketing message to send back a timely response via the mail with our duo-purpose mailers. Designed to encourage a faster response, once the recipient reads your marketing materials, they can use the same envelope to send back whatever response you desire. This removes the extra steps of finding an envelope and stamp, which can cause a delayed response or the dreaded no response due to loss of interest.
Heavy Duty and No-Bend
Heavy content such as booklets and catalogs can cause regular mailers to tear or rip during processing or transit, and that's not how you want recipients to receive your materials. Avoid this risk by choosing any of our heavy-duty mailers made of strong, durable paper. Preserve photos and artwork with the protection of a no-bend mailer.
Don't forget we also offer
custom labels
,
custom envelopes
,
custom filing folders
as well as
custom business forms
.
Get FREE SHIPPING on all orders over $99 and save big. Do you have questions? Contact us by email at
[email protected]
or call us toll free anytime at
855-632-8520
.
---