Response Envelopes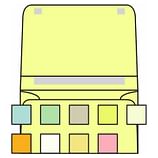 Make sure you make the most of your promotional or sales mail campaigns by adding dual purpose response envelopes into the mix. Designed especially for direct mail projects, these envelopes can easily hold dual purpose items. After inserting content into the envelope, you can see there is a large flap for sealing the envelope shut. Once sealed, you can mail the envelope to a recipient as you normally would do. Recipients open the envelope to read the contents, and they now have a convenient return envelope with a second sealable flap.
Improve Mailing List Response
Imagine the cost savings you can enjoy by using mailer envelopes that have a duo purpose. By printing the recipient address on the envelope's outside and your return address on its inside, your envelope serves as an easy way for recipients to respond to your offer.
White and Pastel Colors
Easily tailor the look of your dual purpose response envelopes by choosing a color theme. We offer them in white and a range of eye-pleasing pastel colors. With so many color options, it's easy to match your envelope with promotional content colors.
Save time by having us do all of your custom envelope printing. Get started by contacting our friendly customer service team at 855-632-8520 or [email protected].
---