Cardboard Envelopes — No-Bend Mailers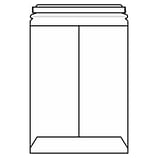 Find the best selection of durable mailing envelopes when you shop online at The Supplies Shops. These cardboard mailers are made of sturdy board that will protect important documents as they make their way to their intended destinations. This type of envelope is perfect for sending important business forms, photos, film negatives, promotional materials and other documents and items that must not be bent. These no-bend mailers come with the option of a tuck-tab seal or Kwik-Tak seal to protect the contents of the envelope. They're easy to write or print on, and any labels are sure to stick firmly to the envelope surface. Many of our cardboard envelopes are made from 100% recycled board, so they're an environmentally friendly option as well.
Browse through our full collection of cardboard envelope mailers to find the right size and style for your business needs. You'll find small- and large-format envelopes to suit whatever items need to be mailed safely.
---