Laser Label Sheets - White & Colored Label Sizes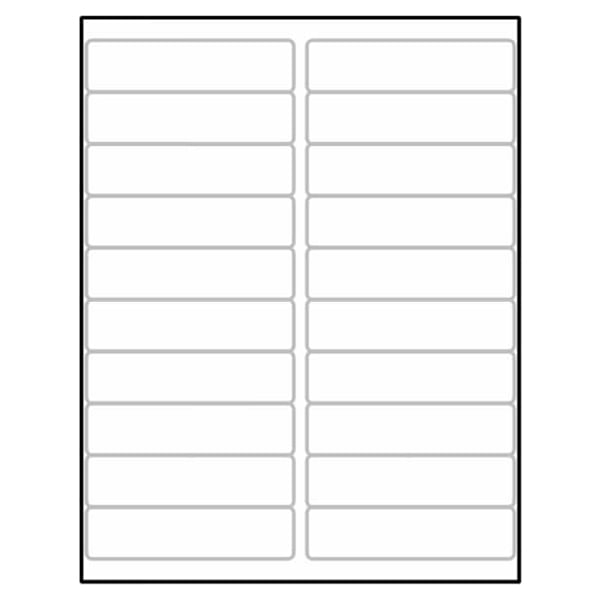 Laser printer label sheets are one of those must-have items that make your life so much easier. Instead of rolls, our label paper sheets for printing at The Supplies Shops come on standard size sheets of backing paper. The stickers are cut to a uniform label size and aligned just so on the sheet. They're easy to peel off as needed, so you can use the whole sheet or just print out a few at a time if that works better for you.
Our selection of label paper sheets can be used with any standard label making software. The paper used to create each label works well with laser printer ink to ensure any text or designs come out crisp and easy to read when inserted correctly into the printer. Make as many labels as you need and reserve the unused labels for the next print job. These labels stay put until ready to peel and stick onto an envelope or other surface. Use this sticker paper for printers to create address labels, filing labels, identification labels, and much more. It's all easy, affordable, and efficient when you use these helpful office supplies.
White Label Styles
You need white laser printer paper label sheets and we've got plenty for every conceivable labeling need. The great thing about shopping for your labels at The Supplies Shops is that we don't just offer the same type of white labels. We give you lots of choices, so you can decide what type of label you want to use for each labeling task, whether it's adding custom printed address labels to your mailings, applying a custom naming system to folders or binders, or labeling items in a filing cabinet, supply closet or office kitchen.
Browse our white label collection to find sheets of double column labels and triple column labels. Find labels that are cut slender, short, or very large. Some sheets contain two or three big labels, while others contain numerous quantities. Our selection is sure to give you some new ideas about how to use labels for all sorts of applications around the office, special events, and much more.
Vibrant Color Labels
Attracting attention to a specific area or item is easy to do when you use any of our colored label sheets. Our colored labels include five elongated labels on a single sheet. They can be used with laser or inkjet printers and ink comes out clear and readable. Popping with vibrant color, you can choose from several bright fluorescent hues, including yellow, green, orange, pink, and red. Stick to all one color, or use a variety of tones to create a convenient color-coding system.
Use them as colored mailing labels that grab attention when they arrive at customers' homes. Our colorful label paper sheets are also useful for placing discount tags on select products, marking up your inventory, or creating organizational labels for inboxes, filing systems, and other office needs. You can even use these as colored address label sheets to add a unique touch to your mailings. The options are endless with these eye-catching labels.
Custom Label Sheets for Printing
Looking for something you can't find in this collection? Don't forget that we also offer custom labels for any business need that you have. Our expert design team can help you come up with a unique type of label for any specific application you happen to have in mind, whether it's a mailing, a product, or an event. These printable sticker paper sheets feature labels in your choice of size and color, all of which can be printed off in your own laser printer for the most convenient and economical solutions. In addition to these personalized labels, don't forget that we also offer custom envelopes, custom adhesive tape, custom filing folders, and custom business forms.
Get free shipping on all orders over $99 and save big with automatic discounts on multiple boxes of printable label sheets. Do you have questions about our LaserJet label paper or wish to inquire about our custom label options? Contact us by email at [email protected] or call us toll free anytime at 855-632-8520.
---