Office Labels in Bright Colors for Laser Printers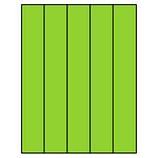 Create unique labeling systems with supplies of colored laser labels from Supplies Shops. These high quality labels are designed for use with laser printers, inkjet printers, or copiers capable of quality printing. We offer a versatile selection of sheet style labels that you can use with most label making software to produce unique labels that serve your project goals. You can print a whole sheet, half sheet or a few labels, as the need arises. You can also use them for color-coding files, dividers, and more.
Multipurpose Color Labels
Color laser labels have so many practical uses and we know that you expect more than just a few good choices. That's why we're giving you a range of label colors to choose from in this collection. These colored labels are ideal for creating mailing labels from a list, return address labels, filing labels, and much more.
Attention Grabbing Colored Labels
Labeling can be many things, including attention getting, and our selection of colored labels is sure to spark some ideas. Get fluorescent colors to make your filing system pop with visual appeal. They are also great for fast identification of file folders, dividers, IDs, media labeling, and more.
Colored labels can be used to create a custom filing system that helps your business keep track of important documents. If you need assistance or answers to laser label questions, please contact us at [email protected] or give us a call at 855-632-8520.
---