Healthcare Forms — Patient Sign-In, CMS-1500 & More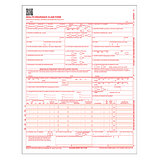 Pre-Printed Healthcare Forms
As a professional working in the medical industry, you know that there is no excuse for not having safe, private and compliant filing systems. The healthcare industry has a unique set of challenges in that it constantly deals with sensitive patient information and, as a result, there are many stringent regulations to keep charts, documents, test results and medical records private. The Supplies Shops offers healthcare forms to meet all of the regulations set forth by the Health Insurance Portability and Accountability Act (HIPAA) so you can keep your facility well-organized without risking violation.
Designed to Meet Important Industry Regulations
To ensure compliance, these health insurance claim forms were designed in conjunction with governing agencies such as the National Uniform Claim Committee (NUCC), the National Uniform Billing Committee (NUBC), the Centers for Medicare and Medicaid Services (CMS), the Health and Human Services Agency (HHS) and the American Hospital Association (AHA). They were also designed to be completely up to date with any revisions. From important CMS-1500 forms to UB-04 hospital claim forms, this selection can help simplify your claims filing system.
We also offer several forms to help improve the workflow, compliance and organization of your clinic or medical office on a daily basis, including patient sign-in sheets, lab mount sheets, patient valuables envelopes, physician order forms and more. Be sure to explore all of our healthcare forms to find all the sheets you need for your hospital, clinic, urgent care center or rehab center. We offer free shipping on qualifying orders. If you have any specific questions or need assistance placing an order, The Supplies Shops is always available to help if you contact us at [email protected] or 855-632-8520.