Physician Order Forms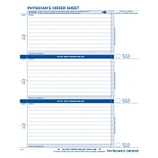 Our physicians' order forms from The Supplies Shops are designed for use at hospitals, clinics, and rehabilitation centers. Our non-continuous multi-part physician order forms include 8 1/2-in. by 11-in. doctors' order sheets.
Each three-page section creates two perforated, removable copies for each filled-in top sheet. These physicians' order forms are available in 1,000-count boxes.
Removable Copies on Physicians' Forms
Or, choose our physicians' order sheets in standard 8 1/2-in. by 11-in. sizes that create three removable copies per filled-in patient information form.
You can also find four-copy form sets of physician forms in standard sizes for health providers.
Keep your patient files organized with our primary care physicians' chart labels. These light blue paper stock labels are available in 500-count rolls. We have patient needs referral for physicians, too.
Expert Custom Services
We offer custom labels, dividers, and folders for your health care provider needs. The Supplies Shops is also your source for HIPAA posters and HIPAA-compliant patient sign-in sheet forms in English or bilingual English/Spanish formats. These forms have peel-off labels to keep your patient sign-in logs confidential.
Order DocuGard medical security paper that exceeds Centers for Medicare and Medicaid Services (CMS) document security guidelines. Our medical security papers have as many as 10 security features to prevent document forgery. We're also your source for premium face masks, laboratory coats, inexpensive shoe covers, and other health care facility supplies.
Free shipping is available on qualifying orders of $99 or more. We offer custom folders and envelopes for your practice. Use our handy Contact Us form, or call our sales staff toll-free at 855-632-8520.
---