Patient Charge Labels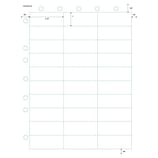 Buy laser- and inkjet printer-compatible patient charge labels at The Supplies Shops. These patient charge labels can replace outdated, cumbersome plastic embossed cards. Our patient charge labels are a time-saving alternative to the use of multiple-part patient billing forms.
The labels are large enough to print with bar codes or other patient information, which can reduce manual-input data errors at your health care practice. These labels have adhesive-free edges to prevent the labels from jamming in printers. Each label has pre-punched holes to fit standard hospital and other patient care charts.
Multiple Patient Labels Per Sheet
Choose 8-1/2-in. by 11-in. patient charge label sheets. Each page in a 1,000-count carton contains 30 blank 2-1/2-in. by 1-in. patient charge labels; or 2-5/8-in. by 3/4-in. labels that arrive on sheets with 42 labels per page in 1,000-sheet cartons.
We carry patient charge labels compatible with PLS-103, PLS-103X and/or PLS-203 LaserBand labels. We also can print custom labels in different sizes and styles.
Other Patient Labels, Forms
Also shop our collection of pre-printed patient labels and forms that range from patient bill collection labels to English/Spanish patient confidential sign-in forms. We have laminated 12-in. by 18-in. HIPAA Protecting Patient Privacy posters.
Pay affordable prices for white paper or plastic Patient Valuables envelopes with tear-off receipts for your hospital, clinic, or other health care facility. Our red "See Health History" patient chart labels are available in 250-count rolls.
We have pediatric patient sign-in sheets, as well as laboratory testing report forms and labels for hospitals and other health care offices.
We can customize health care provider patient labels and forms, envelopes and file folders. Contact our customization experts at [email protected], or call our custom-printing team toll-free at 855-632-8520.
---