Narcotic Control Sets - Controlled Substance Receipt and Disbursement Forms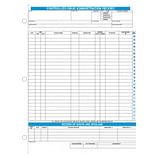 Narcotic control sets are shingled forms used to meet strict regulations regarding the receipt and disbursement of controlled substances within the hospital. Frequently used for floor stocked narcotics where dosage amounts are administered on an "as needed" basis (rather than fixed schedule medications which are often put on the drug cart), a narcotic control set may list many drugs, but each individual form is used for only one drug. Narcotic control sets typically consist of three distinct sections:
Pharmacy Receipt – Used to record receipt of the drug including all pertinent information such as date received, drug name, strength, quantity, name of pharmacy official receiving the drug, etc. After completion, the pharmacy receipt is detached and maintained in the pharmacy.
Charge Tickets – Shingled tickets used to document the issue of every dose of the drug, and the patient to whom the drug has been administered. After each ticket has been completed, it is detached and sent to accounting to charge the patient. Drugs are typically received in units of 10 to 25 dosages, and most narcotic control sets contain 10 or 25 charge tickets. Charge tickets may include pre-listed drugs – typically floor stock for commonly used drugs (which may differ for different units) – or they may be blank (no pre-listed drugs) allowing the unit to fill in the drug name, dosage, etc. – often used for non-standard or new drugs.
Journal – An 8-1/2″ x 11″ sheet to which the pharmacy receipt and the shingled charge tickets are attached. All of the information recorded on the pharmacy receipt and charge tickets transfer to the journal. After the supply of the drug has been exhausted, the journal is returned to the pharmacy where it is kept as permanent record of the receipt and disbursement of the controlled substance.
---