Case Files & Binders — Top Tab, End Tab Case Binders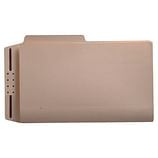 Premium-Quality Case File Folders
Case files differ from standard filing folders because, as their name suggests, they are meant to hold many documents and exhibits from a single case. Popular in law offices, police stations and more, these filing binders feature a heavyweight stock construction so they can withstand regular handling. Because of this, these case binders are perfect for attorneys and law enforcement officers who are constantly toting important files from courthouse to office or to meetings with clients. No matter the document or file, The Supplies Shops has a folder to store it!
A Wide Range of Options Available
Explore a wide variety of durable attorney file folders in both legal and letter size in The Supplies Shops' selection. We offer top tab case binders and end tab case binders in legal and letter configurations and 10 colors to suit your specific needs. Top tab case files are great for increased visibility in drawer filing applications, as they feature top tabs that alternate left and right positions with end wings. Our end tab legal case file folders have the labeling tabs on the ends, which makes them ideal for filing vertically and on open racks.
No matter which style you choose, you can count on lasting performance and security thanks to the 14 pt. heavyweight cardstock, double thick back panels and 2-inch embedded fasteners on the second wing of each folder. We know that it can be a challenge to determine exactly which filing products are most appropriate for your office and business needs, so don't hesitate to contact us with your questions. We're available via email at [email protected] or by phone toll free at 855-632-8520. Be sure to take advantage of free shipping on qualifying folder orders!