POS Rolls — Bond Paper, Thermal Paper, Carbonless Paper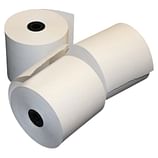 Never Run Out of POS Paper
An endless supply of POS rolls helps every business run at its best! This is paper designed specifically for point of sale (POS) systems, widely used in almost every retail market for day-to-day transactions. Our customers purchase POS paper from our store to print receipts from cash registers, kiosks, credit card readers, toll booths, gas pumps, automatic teller machines (ATMs) and so much more. Explore three different types of receipt paper at The Supplies Shops and enjoy free shipping when you spend $99 or more on your paper order.
The Three Most Common Types of POS Paper
Are you asking yourself, which type of POS paper do I need? There are three common types of POS roll paper — bond, thermal and carbonless paper. Generally, the type of machine you operate will determine the type of paper you need to buy, so be sure to check with the manufacturer of your POS equipment before selecting. Our affordable bond paper is made of single-ply paper and is used in machines where a ribbon is required for printing. On the other hand, thermal paper is used in machines that use heat rather than a ribbon to produce the desired image, so specialty paper is required.
We also have carbonless paper for receipt printing purposes. These two-ply rolls are specifically designed for use in machines that utilize impact printing to create two receipts at a time (rather than printing a duplicate). No matter which type of paper you prefer or which machine you use, The Supplies Shops is happy to help you with all your POS paper supply needs. Our customer service team has all the expertise you need to learn about POS paper and so much more, including custom office supply orders, so don't hesitate to reach out to us at [email protected] or 855-632-8520.
---