Thermal Paper Rolls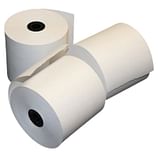 POS thermal rolls are an essential part of many business operations. When a business runs out of these paper rolls, it can bring disruption to normal activities. You can avoid interruptions by ordering bulk quantities from us.
How Are Thermal Paper Rolls Used?
POS thermal paper rolls are used in various types of point-of-sales machines at retail stores, grocery stores, and even ATMs. When it's time for cashiers to ring up items at the check-out counter, receipts are printed on rolls of thermal paper. Likewise, when bank customers need a record of transactions, these instant records are printed using thermal paper.
A Wide Variety of Paper Roll Sizes
Thermal paper is not a "one-size-fits-all" item, which is why we offer numerous options for roll sizes. To make ordering go faster you can check the size of your current roll of thermal paper or refer to a specific printing machine's user manual for roll size recommendations.
Need help with your order? Send your questions using our online contact form, email us at [email protected] or call toll free at 855-632-8520.
While here, check out our collection of bulk copy paper.
---