Tax Forms — W-2, 1099,1098, 5498, 1042, ACA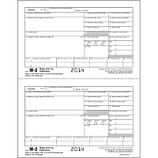 Simplify Tax Season with Tax Forms and Envelopes
Save time, money and effort with ready-to-print tax forms and tax envelopes from The Supplies Shops. Whether you're an in-house accountant, a payroll service or the owner of a bustling tax prep business, you'll find the forms and resources necessary for the job here. These economical tax preparation supplies are made with premium quality paper compatible with your printer to ensure a professional result no matter what. The Supplies Shops always offers excellent volume discounts, premium customer service and free shipping on orders over $99 to help you save on essential forms.
Our array of tax return supplies includes the bulk tax forms you need to keep your business operating smoothly, including W-2 forms, 1099 forms,1098 forms, 5498 forms, 1042 forms, Affordable Care Act (ACA) forms and so much more. These easy-to-print forms work well with an assortment of printer types, including laser printers, dot matrix printers and others. We also have helpful tax form envelopes — including 1099 and W-2 envelopes — to ensure that your tax forms arrive to your partners, associates and employees in a professional manner. These products will help take some of the stress out of tax season this year!
Don't See What You Need? Get in Touch
Need tax assistance? We also offer helpful tax supplies and resources, including smart guides that help you and your employees fill out 1099 and W-2 forms properly. As your go-to business form supplier, The Supplies Shops is here to assist you with finding whatever tax forms you need.
If you don't see the specific forms, resources or products you need, please contact us right away and our team will get to work on your case. We can even help you create a filing system tailored to your business with custom folders that have options for different closures, coming pre-labeled and more. Reach out to us at [email protected] give us a call at 855-632-8520.
---