W-2 Forms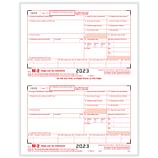 Streamline your processing and mailing of employee W-2 forms with bulk supplies of forms and envelopes from Supplies Shops. We offer the latest version of this essential tax form, and you have several buying options, making it a cinch to order the quantities you need for your business.
Various Form Styles
We offer standard W-2 forms in a multitude of styles to ensure you find a form style suitable for your type of processing. You can order individual Copy A, Copy B, or Copy C sheets, or choose multi-part carbonless sheets. You can also take color into consideration when selecting a form style. Some forms are all black, some forms are all red and some forms feature red and black in different areas.
W-2 Envelopes
Give your tax form mailings a polished, professional appearance with supplies of W-2 envelopes. These window envelopes include attention-getting tax document alert wording on the front to help recipients identify its contents.
Need additional tax forms? We have many more in our tax form collection.
We are available to answer your W-2 tax form questions at 855-632-8520. Alternatively, you can contact us online with your questions. We look forward to assisting you.
---