Double Window Envelopes – Check and Tax Envelopes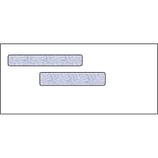 If you are a fan of single window envelopes, double window envelopes give you more of what you already love about this envelope style. Typically, one window is used to reveal the recipients mailing address. The second window can be useful for showing a business return address or some other type of identifying content. Browse to find envelopes with windows placed closely together or farther apart. Use our search filter to quickly choose envelope size, window size, tinting, and other features.

Some businesses prefer to use 2-window envelopes, instead of the one-window style. What the two-window envelope does is allow the company's return address to be seen clearly through a window, in addition to the address of the recipient. If you are using custom printed forms that print the company address on the upper left side, you can order envelopes with windows on the left side from us.
Great for Mailing Checks
Many companies prefer to send checks through the mail in professional window envelopes. The double window is supremely suited for this task as it allows for the check recipient to clearly see the special check paper through the plastic film. Additionally, you can position your business return address to align with the upper window to show who is sending the money. These envelopes help people recognize that this content is important and should be treated as such.
Professional W-2 and 1099 Mailings
Window envelopes are ideal for sending out annual tax forms to employees and independent contractors. When it comes to the W-2 or the 1099, you want to ensure that recipients can get an indication of what's inside. Two windows can contribute to this easy identification. Your business address can show through one window and a mailing address through the additional window. Window envelopes have the look of formality, and your mailed piece is more likely to be treated as important information.
Blue Woodgrain Tint for Security
When security is a priority, you can choose one of our double window security envelopes for your mailing project. These envelopes feature an interior blue woodgrain design that protects content from prying eyes.

Don't forget we also offer custom labels, custom envelopes, custom filing folders, as well as custom business forms.

Get free shipping on all orders over $99 and save big. Do you have questions? Contact us by email at [email protected] or call us toll free anytime at 855-632-8520.
---