Inventory Labels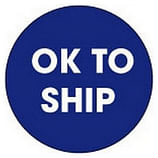 At The Supplies Shops, we're familiar with the need to run a tight ship when it comes to keeping track of inventory. An easy-to-track organization system is a must, and inventory labels play a key role in locating, identifying and counting inventoried items. That's why we made extra-sure that this collection of labels can be used for all sorts of warehouse and storage solutions. Browse the categories that best complement your current or future inventory system to find labels that make inventory oversight and processing a lot easier.
Vibrant Colors for Visibility
Arranging goods on shelves is one thing but finding items quickly and identifying what's in every section and on every shelf is a whole different ball of wax. That's why it's a good idea to use colorful labels that stand out for their vibrancy and visibility. While browsing, you may notice that we offer labels in primary colors such as blue, green, red and yellow, which are always popular. Expanding on vibrancy, you can find fluorescent colors of green, orange, pink and yellow that silently beckon the eyes. For variety, you can use neutrals such as black or white for normal visibility.
Control Inventory Labels
During a typical busy day, employees are receiving, unpacking, packing, stocking or pulling inventory. There's no time to repeat instructions, but it's crucial that every employee knows exactly what should be done with the items they handle. Our selection of control labels can be a big help in providing simple, easy instructions. These labels are preprinted with specific words or short phrases that everyone can understand. Use control labels to identify box contents, for quality control inspections and for things like recycling.
Time of Year Identification
Some of our preprinted labels can help you quickly identify items connected to a certain month, business quarter or year. These labels come in a variety of color choices and feature large, readable print for quick identification.
Click Here to Complete the Custom Tape Quote Request Form
Don't forget we also offer
custom labels
,
custom envelopes
,
custom filing folders
as well as
custom business forms
.
Get FREE SHIPPING on all orders over $99 and save big. Do you have questions? Contact us by email at
[email protected]
or call us toll free anytime at
855-632-8520
.
---