'Made in USA' Labels, American-Made Labels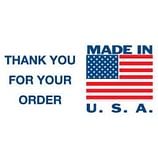 Low Prices on Made in USA Stickers
"Made in USA" labels evoke the pride associated with the fact that your product was manufactured in the United States. With "Buy American" being a prominent motto in today's economy, don't miss the opportunity to let everyone know that your product was made with pride in the USA! We have labels that say exactly that too. Additionally, some of the labels you can choose from include plain American flag labels (no text), standard "Made in USA" stickers with the American Flag and "Thank You For Your Order, Made in USA" labels.
These red, white and blue stickers add a message of American pride to your business branding and identify the country of origin to stay compliant with local and federal laws. Show that America is still a manufacturing hub with The Supplies Shops' "Made in the USA" labels!
American Flag Stickers and Labels
Simple American flag stickers are an easy way to add patriotism and customization to your shipping and packaging. We offer small American flag stickers as well as USA-shaped stickers that fit on a wide variety of boxes, envelopes and mailers. These high-quality bulk American labels help you show your pride while simultaneously helping you save your business or organization money. With such low prices, we find that many of our customers also use these stickers for personal projects.
Order patriotic stickers in bulk and enjoy hefty volume discounts and free shipping deals. Have questions about our American stickers or want to place a custom label order? Please get in touch with us at [email protected] or 855-632-8520 today!
---