Patriotic Stickers, 'I Voted' Stickers, Voting Stickers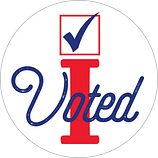 Show Your Patriotism with Stickers
Give your mailers, product packaging, shipping and more a patriotic upgrade with the help of patriotic labels and voting stickers. The Supplies Shops has high-quality, well-designed options for your unique need, with bulk discounts available and fast, free shipping on orders over $99. Be sure to shop all of our shipping and handling labels for more.
Quality Voting Stickers
The Supplies Shops has an excellent variety of voting stickers you can use to encourage voter engagement. Select from various different "I Voted" sticker designs to suit your specific needs. Voting stickers encourage a high voter turnout and help citizens proudly display that they took part on Election Day. A high voter turnout is key to democracy, and these stickers can help! They are perfect for local boards of elections, but may also be used by schools and nonprofits after organization-wide votes.
Explore American-made voting stickers with a patriotic twist, including American flag voting stickers and styles in red, white and blue. You'll also find patriotic stickers to thank veterans in this selection plus "Proud Veteran" stickers that are perfect for military voters as well as organizations and veteran-owned businesses. Discover bulk American flag stickers to hand out on election day or to add some American pride to your business and personal correspondence.
Custom Labels Available
Looking for "Made in USA" labels? We've got those, too! We specialize in offering premium quality yet affordable stickers and business supplies — and yes, many of these stickers are themselves made in America to ensure quality! Need assistance or want to place a custom label order? Please get in touch with us at [email protected] or 855-632-8520 and we'll gladly assist.
---