Top Tab File Folders — Manila, Color, Poly, Expansion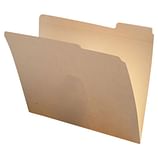 Quality Filing Folders for Any Office
Creating a well-organized filing system is crucial to your business's success, especially if you handle paper files and documents on a day-to-day basis. This selection of top tab file folders from The Supplies Shops includes the ideal top tab file folders for your unique filing system, regardless of the size and use of your filing cabinets. With a wide range of options available, you can order bulk filing folders to keep your office perfectly well-ordered at all times. The top tab design is key to helping you stay organized, as it helps you identify certain folders at a glance.
Top Tab Folders for Every Need and Use
The Supplies Shops offers an assortment of top tab manila filing folders to help you create a neat and clean filing system. Features such as fully reinforced two-ply tabs make these folders ideal for long-term document storage as well as daily use. Take your color-coded filing system to the next level with the help of colored top tab filing folders available in full cut or 1/3 cut options with built-in fasteners for securing documents into the file.
If you work in a more demanding environment or have your file storage in the warehouse, workshop or any other messy area, we recommend picking up some of our plastic top tab filing folders. They're made of durable polypropylene, allowing them to repel moisture and resist tearing. For your larger files, bulky pages or more complex records, expanding file pockets and classification folders really come in handy.
File Us Under 'Great Partners'
We think you should file The Supplies Shops in your Great Companies to Do Business With folder! Ready to order? Place your order online, reach out to us at [email protected] or call us toll free at 855-632-8520 to get the ball rolling. Don't forget to take advantage of our free shipping options!
---