Storage Boxes — File Storage Boxes & Envelope Boxes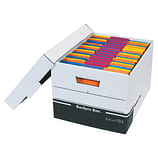 Simplifying File Storage and Transport
For files that you don't need daily access to but aren't ready to shred, look to our great selection of file storage boxes at The Supplies Shops. These purpose-built boxes were specifically designed to help you protect and organize large volumes of documents and papers so they can be stacked and placed in storage. We've got a huge variety of filing storage boxes to suit any need, whether you're moving your filing system from one facility to another or are ready to permanently offload files to a storage location.
File Boxes for Any Kind of File and Every Need
These boxes are different from typical cardboard boxes because they feature lids to keep files safe from damage as well as handles on both ends for easy transport. Some are also specifically designed to stay in great shape while stacked and feature space for labeling on the outside for easy identification. If you need your boxes to stay closed while being transported or stored, consider our string and button boxes featuring heavy-duty ties and plastic eyelets. Another option is our interlocking file boxes that provide a protective top layer and offer quick and easy assembly for your team.
Whether you need envelope storage boxes, print file boxes or legal folder boxes, The Supplies Shops has an option in your budget, from affordable economy boxes all the way up to premium boxes that can tolerate over 1,000 pounds of pressure and can be stacked six boxes high.
The Supplies Shops Difference
We're happy to offer free shipping on qualifying orders to help you stay under budget. Bring organization to another level with custom folders inside the boxes and custom tape to securely close them while seeing at a glance which box contains what you need. If you'd like to place a custom order, have specific questions or need additional information on our products, please contact us at [email protected] or 855-632-8520.