Art Portfolio Cases, Art Folders, Expanding Envelopes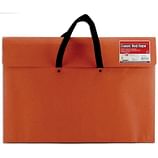 Safeguarding Original Works of Art
Ensure that every single work of art you produce is safe and well-protected with art filing solutions from The Supplies Shops. Featuring all the folders and envelopes you need to file, store and transport your most precious creations, we can help you preserve your pieces as you ship, store or tote them to interviews. Whether it's a protective art portfolio case for drawings or an expanding file folder to keep all your drafts and ideas neatly organized, you'll find it here. The Supplies Shops specializes in offering archive-grade solutions for professional and personal applications.
This selection includes the necessary supplies required for building a damage-proof art storage system. The secret is our poly envelopes, which provide a durable protective layer that keeps your works of art safe from dust, dirt, moisture, scratching, tearing and folding. The plastic material is exceptionally durable and resists moisture and scratching. Available in both legal and letter sizes as well as a rainbow of bright colors, these products can be color-coded for storage by medium, project, theme or job. They feature a convenient Velcro™ closure for easy opening, closing and to keep your artwork secure.
Features for Long-Lasting Protection
We also carry a broad array of art portfolio cases in larger styles to suit blueprints, renderings, posters, drawings and more. The Classic Dura-Tote is one of the best artist portfolios around and is made of acrylic-coated, heavy-duty fiber to safely store your one-of-a-kind artwork. What's more, Dura-Tote portfolios have steel riveted, Mylar-reinforced webbed handles for safe, easy carrying around the office or campus. Be sure to consider student art folios or economical project folders if you're looking for a bulk solution for the classroom or office.
Each art portfolio folder in this department features a secure closure system — including either string and button closures or Velcro closures — so you can put them in your car, backpack or luggage without worry. Although ideal for artwork, these envelopes are also popular for safely protecting sensitive original documents, photographs, certificates and more when not in permanent storage.
Best Customer Service & Custom Orders
With free shipping offers, superior customer service and the ability to customize your folder order, The Supplies Shops has just what you need for your art filing system. Don't see what you need or have questions about our filing products? Don't hesitate to contact our customer service team at [email protected] or 855-632-8520.