File Folder Labels — Letters, Numbers, Months, Years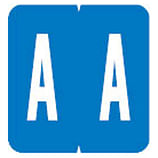 File Labels for Any Application
Give your entire filing system a top-to-bottom overhaul with pre-printed file folder labels from The Supplies Shops. Helping you organize your company's files is our specialty, and we do it by offering high-quality file labels for a variety of unique applications and virtually all industries.
It's time to bring order to the mounds of paperwork in the office and there's no better way to do that than with quality file folder labels. A good
labeling system
can help you quickly identify folder contents, making it easier to pull files and re-file them as needed. Browse this collection to find
solid color labels
and pre-printed labels to use for a wide variety of business forms and paperwork. When you combine these labels with custom file dividers, it's easy to create awesome
filing systems
.
We specialize in offering specialty labeling options for the health industry. We offer 
medical chart divider tab labels
, 
HIPAA labels
, 
veterinary labels
 and 
allergy warning labels
 to keep all of the most important information clearly visible on each file. Not only will these medical filing labels help you protect sensitive patient information and improve your office's efficiency, they'll also help keep your business compliant every step of the way. More industry-specific file labels in our selection include 
legal exhibit labels
 which are used in law offices to keep important exhibits safe, private, and organized.
Free Shipping on Qualifying Orders
We also have an incredible array of versatile labels that you can use to build a custom filing system in any industry, whether you run a small business from home or a massive corporation. Shop 
month labels
, 
alpha labels
, 
numeric labels
 and 
year labels
 to ensure that every single important file is properly labeled within your system. If you need tabs but don't want to label, you can always 
build your own custom file dividers
 at The Supplies Shops. If you have any questions or comments, please feel free to contact us at 
[email protected]
 or 
855-632-8520
.