Perforated Paper & Hole-Punched Paper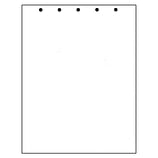 Perforated and Hole-Punched Paper
Need perforated or pre-hole punched paper? The Supplies Shops has it at all, no matter your specifications. Designed to suit virtually all business applications, including those in healthcare and retail, these paper options assist in binding, filing, ticketing, record-keeping and beyond. Though they can be used for a wide variety of jobs, they all serve the same purpose — to help shave valuable time (and, in turn, money) off your long list of tasks. Pre-punched and perforated paper eliminates one step for you so you can get right to printing with zero prep. We take care of this extra task for you by perforating and hole punching the paper!
Options for Any Need and Budget
Our pre-punched paper is regularly employed in inventorying, invoicing, attendance monitoring, record-keeping and so much more. It's made for universal printing, so you can use it in your laser printer, high-speed copier, inkjet printer or offset printer. Choose from various configurations, including top- and side-punched options for use with all ring binders, spiral binders and fastener folders.
Our pre-perforated paper comes pre-scored so you can easily print your tickets, forms and more. This paper is popular for creating receipts, event tickets and detachable forms, and comes in an assortment of configurations to suit your needs. Select from blank options as well as perforated ticket paper here.
Wide Selection & Custom Services
The Supplies Shops is your one-stop paper supplier for the simple fact that we have an excellent selection of options and the ability to customize your forms. So if you don't see what you came for, simply send us an email at [email protected] or call us toll free at 855-632-8520. One of our office supply experts will get in touch to help you with your order. Stock up on paper and office supplies from The Supplies Shops and enjoy free shipping on orders of $99 or more.
---