Pre-Punched Paper — Top- & Side- Hole Punched Paper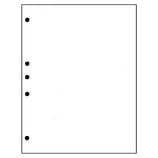 Find the best selection of hole-punched paper when you shop online at The Supplies Shops. Pre-hole punched paper is essential in most retail, healthcare and general business industries. There are countless applications for this paper style, including inventory, invoicing, attendance monitoring and more. It's important to have the right style of hole-punched paper on hand so you can stay on top of your recordkeeping efficiently.
Printing on pre punched paper can be accomplished with laser printers, high speed copiers, inkjet printers and offset presses. The large variety of hole punched options, including top-hole punched paper and side-hole punched paper, allows for a number of uses as well. The Supplies Shops' hole-punched paper can be used in three ring binders, five-ring binders, seven-ring binders, spiral bound configurations and fastener folder applications. Search through the colors, styles and carton sizes to find the best fit for your business needs.
---