Radiology Supplies — X-Ray Jackets, Negative Preservers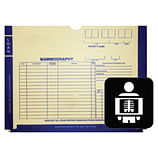 Protect Sensitive Medical Information
Radiology and medical imaging are among the most vital tools employed in modern medicine. Because of their sensitive nature — both in terms of patient privacy and the sensitivity of the actual documents — a proper filing system is crucial to a professional and compliant medical office. The Supplies Shops is here to help you find all the necessary medical office supplies required to help keep your facility running like a well-oiled machine. Explore options to suit your unique medical filing system here.
X-Ray Folders, Film Mailers and More
Shop our radiology supplies to find folders, envelopes and more that help keep information safe, organized and private. Our selection of radiology accessories and essentials includes X-ray jackets which are uniquely designed to house X-rays along with important information. They can be ordered either plain or with a front report, helping you keep all information in one place. We also carry standard category film inserts for indexing films within your master radiology jackets as well as film mailers that keep them safe in transit.
At The Supplies Shops, we're in the business of helping you digitize and modernize your medical records in a safe, compliant and simple manner. Consider using our CD sleeves and mailers to ship, store and organize crucial information like X-rays and MRIs. Be sure to explore our entire selection of medical office supplies, including healthcare forms, to keep your office completely compliant and neatly organized.
With free shipping, excellent pricing and quality customer service, The Supplies Shops can help you with any medical office supply need. Contact us at [email protected] or call us toll free at 855-632-8520 for questions or to place your order.