Healthcare Forms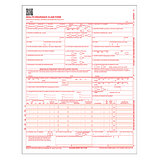 Creating HIPAA-compliant medical office forms for your medical practice or lab is a breeze when you choose The Supplies Shops for all your form needs. We understand what type of forms are required by insurers, hospitals and government services, and you can depend on us to deliver the highest quality healthcare forms to you each and every time. The nice thing about ordering from us is that we do all the research to ensure our forms are current (which relieves you of so much tedium). We've double-checked every code and informational field and made sure our form designs work for numerous types of medical offices.
Browse our collection to find the exact type of healthcare forms you need, so that you never run out during a busy day. And, hey, if you do happen to run out, just give us a call and we'll get your order to you as fast as we can.
Medical Offices and Labs
Forms are a necessity when you're running a medical practice. As soon as a patient arrives, they are presented with a form. When a patient sees a nurse practitioner, physician or dentist, a form is filled out. Regardless of what anyone thinks about the plethora of forms, they do serve the important purpose of streamlining many processes that go into providing healthcare. Let us help you stay stocked up on the most common forms you use daily, weekly or as needed. Labs often use lab mount forms, and we've got some great styles that can be used in all medical lab settings, rehabilitation and urgent care facilities.
Patient Care Forms
You need quality patient sign-in forms and we've got them! Because of the sensitive nature of a patient's medical office visit, these simple forms must be HIPAA compliant, and that's exactly what we offer in affordable quantities. You can also order ID bands for patients of all ages.
Best Healthcare Envelopes
Create a professional-looking mailing for your medical practice, hospital or organization with our selection of quality healthcare envelopes. We offer several styles for mailing invoices, documents, correspondence and forms.
Don't forget we also offer
custom labels
,
custom envelopes
,
custom filing folders
as well as
custom business forms
.
Get FREE SHIPPING on all orders over $99 and save big. Do you have questions? Contact us by email at
[email protected]
or call us toll free anytime at
855-632-8520
.
---