Engineering Paper, Blueprint Paper, Wide-Format Rolls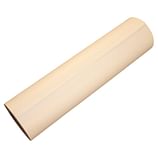 There's no better place to buy blueprint paper than The Supplies Shops. Browse through our collection to find great deals on high-quality products. Also commonly referred to as engineering paper or plotter paper rolls, these wide-format paper rolls can be used for many different applications. Most frequently, they're used to print architectural and engineering documents, as well as posters, signs, and other items that require a sizable print area.
You can choose from a wide variety of sizes when you buy blueprint paper at The Supplies Shops. We offer lengths ranging from 150 feet to 650 feet, along with widths of 22 inches, 24 inches, 30 inches, 34 inches, and 36 inches. Each roll is individually sealed in a protective moisture wrap with core plugs for added protection.
Our wide-format blueprint paper rolls are available in engineering bond and inkjet bond paper to suit your unique business needs. The Supplies Shops is happy to help you buy blueprint paper in whatever quantity you need, whether you prefer to buy by the roll or carton. Our dedication to personalized customer service means we'll do whatever we can to accommodate you.
With so many options to choose from, we're sure you'll find an engineering paper roll to suit your specific industry, budget, and project. If you'd like to give the planning department an eco-friendly upgrade, consider investing in some of our recycled blueprint paper, which contains 30% post-consumer content to help reduce your carbon footprint. We also carry taped blueprint paper rolls, which feature blueprint paper secured to the core, and untaped rolls, which come with unsecured blueprint paper. Your printer type will determine the kind of paper you need and we're happy to help you figure out which blueprint paper is right for you. All you have to do is send us an email or give us a call.
In addition to standard engineering bond wide format paper, we also carry some specialty engineering paper for less common applications. For example, our double matte xerographic film has a thicker, more sturdy feel thanks to its 4-mil thick Mylar coating. It's ideal for creating extra durable documents and renderings with high tensile strength. We also have high-temperature xerographic vellum paper to suit your specific medium and printing equipment. Not sure which kind you need? You can always get in touch with us for expert advice.
Your Source for High-Quality Printing Supplies
For printing crisp and clear engineering, architectural, and large-format documents or signs, look no further than The Supplies Shops to buy blueprint paper. We carry a wide variety of lengths and widths in both taped and untaped options. We're also able to bring you the lowest prices and offer free shipping on orders over $99 to help you save. As always, we're happy to assist you with your order of custom office papers, business forms and more, whether you're wondering where to buy blueprint paper or are in need of one-on-one assistance regarding a specific product. If you have questions, simply get in touch with us via email at [email protected] or give us a call toll free at 855-632-8520.
---