UB-04 Claim Form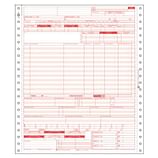 Find a full collection of UB-04 hospital claim forms at The Supplies Shops. We have hospital claim forms printed with OCR red "dropout" ink. With OCR red dropout ink, OCR (optical character recognition) scanners will "read" foreground information while ignoring dropout ink colors.
Hospital Claim Forms
Choose environmentally friendly UB-04 laser-cut hospital claim forms, created with recycled paper, by the 500-form case, 1,000-piece case or 2,500-count case. We have two-part, three-part, four-part, or five part continuous UB-04 hospital claim forms.
Buy American-made jumbo left-window hospital claim form envelopes in a 9-in. by 12-1/2-in size with security tinting on each envelope.
Lab Report Sheets and More
Hospitals, rehab centers, and clinics give a thumbs-up to our expertly made white laboratory report sheets. Each 8-1/2-in. by 11-in. white lab report sheet has vertical or horizontal adhesive strips. BF-VT-3 lab mount sheets can hold three reports, and they have standard five-hole punch perforations to attach inside standard patient medical charts.
Use these mount sheets to collect and organize therapy records, urinalysis findings, heart rhythm data, other patient test findings or prescription information.
Potential data reporting includes telemetry results, EKG and heart rhythm data, urinalysis, therapy records, prescription information, and more. They are available in value-priced 500-count boxes.
Shop our line of pre-printed patient valuables envelopes. Each sheet has 15 lines to report patient valuables, along with a tear-off numbered receipt for a record of valuables held while the patient is undergoing treatment or rehabilitation.
Patient Chart Dividers
Consider our custom-printed labels for your hospital or clinic report forms and folders. Keep your health provider paperwork organized with our hospital stock chart dividers, sold in sets of 65 with six tab designs. The tabs include blue tabs for history/physical information, yellow tabs for progress notes and green tabs for lab or X-ray reports.
Red tabs on the collated hospital chart dividers are for hospital information and brown tabs are for insurance information. You can also order custom patient information dividers.
---