Patient Sign-In Sheets — Healthcare Forms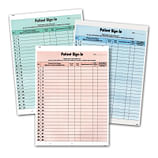 HIPAA-Compliant Sign-In Sheets
When not properly considered, a medical office's sign-in protocol can leave it vulnerable to violations set forth by the Health Insurance Portability and Accountability Act (HIPAA). However, implementing the use of HIPAA-compliant patient sign-in sheets is an easy way to protect your patients' privacy and keep your office compliant. These sign-in sheets from The Supplies Shops are specifically designed to adhere to the recommendations set forth by HIPAA as well as other industry regulations that are important for keeping your practice free of fines or liability.
Smart Ways to Protect Patient Privacy
With these patient sign-in forms, your patient's identity is protected in a number of ways. Some feature peel-off adhesive or tear-off lines to keep your client list confidential. You may also opt for carbonless paper sign-in sheets that automatically keep a record of all patients seen that day. The back sheet allows you to keep a record of all patients along with important details like arrival time, doctor name and date of birth. This is an excellent solution for keeping everything well-documented without risking any HIPAA breaches. Options are available in English and Spanish to suit your needs.
The Supplies Shops is your one-stop shop for sign-in sheets for your office. We have options in blue, green, white and salmon in a number of quantities so you're always stocked. With free shipping on orders over $99 and personalized customer service, there's no reason not to make us your go-to resource for medical forms. If you don't see a product to suit your needs, reach out to us via e-mail at [email protected] or by phone at 855-632-8520 and we'll work hard to find a solution that works.
---