Bulk Copy Paper, Laser Paper, Copier Paper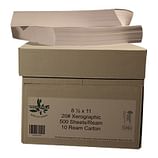 Buy Premium Copy Paper in Bulk
Copy paper gets tons of use in most bustling offices, and you never want to run out! These basic white sheets are designed for use on all your company's equipment, including copy machines, plain paper fax machines and inkjet printers (monochrome printing only). Our selection includes an assortment of commonly used paper options, with sizes and styles to accommodate your unique job and printer. Whether you're creating forms, business documents or communications, this white copy paper can help you get the job done right.
Quality paper is our specialty at The Supplies Shops. Our non-impact laser copy paper is made for premium printing performance and features a bright white appearance to ensure that your text prints crisp and clear. These are high-quality, mill-branded papers with a 20# weight for an efficient, affordable way to keep all your office's machine's stocked. We also carry 8.5 x 11 copy paper that comes three-hole punched to save you time and effort when preparing papers for binding.
Can you use copy paper in the printer? Generally speaking, copy paper differs from printer paper in that it's thinner and lighter, which makes it best suited for printing in monochrome text applications. So you can use copy paper to print text with your laser or inkjet printer, but we don't recommend using it for more complicated or colorful applications. Please reach out to us ([email protected] or 855-632-8520) if you have questions regarding use and applications.
Stock Up So You Never Run Out
At The Supplies Shops, we can help you with any quantity of white copy paper — ream, carton or multiple cartons. Each carton contains several 500-sheet reams which have been shrink wrapped to control moisture. Standard copier and printer sizes, including 8.5 x 11 (letter) and 11 x 17 (tabloid), help ensure that you get the right sized paper for your unique job. Shop a wide range of options to help you create professional forms, documents and so much more, and enjoy free shipping on orders over $99.
The Supplies Shops is here to help you save time and money in all business applications, whether you choose from our broad selection or choose to place a custom business form order. We are specialists when it comes to custom filing solutions as well and will gladly work with you to produce custom file dividers and more. With questions or concerns, contact us at [email protected] or 855-632-8520.
---