Integrated Form & Envelope Sheets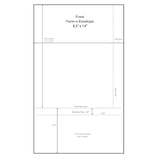 Business Forms with Integrated Envelopes
Need a document and an envelope built into a single form? We've got just what you need at The Supplies Shops. These two-in-one problem-solvers are ideal for a wide range of applications, including billing, ordering, sales, marketing, sign-ups and so much more. Use them to help simplify fundraisers, to boost your subscription sales or to create professional billing mailers. These forms are designed for use when you need to create a document with an outgoing envelope with a single print job or when you want to attach a return envelope to a document.
Designed for Professional Print Quality
We offer several different options in this category from Form-N-Envelope and other brands which feature an included remoistening seal and easy tear-off strips to ensure ease for the recipient. These sheets are specially designed for fast, effortless printing and have perforations to save you time and money on your biggest jobs. Print professional, high-quality forms with smooth finish paper that creates clear, vibrant imagery and text. Sizes include 8.5 x 11 and 8.5 x 14, ensuring that your existing designs fit on the form without issue.
If you're looking for a brilliant way to simplify the way you send out bills, order forms or sign-up sheets, this is an excellent solution. Whether for marketing, medical billing or fundraisers, choose paper with integrated envelopes. The envelope can be outgoing or return and the envelope and sheet can be printed at the same time for your convenience. With plenty of room for branding, information and custom forms, these Form-N-Envelope products can help you send out professional-looking correspondence using your own printer.
Free Shipping and Volume Discounts
The Supplies Shops is your go-to resource for all things related to printing, mailing and filing. And if you need bulk Form-N-Envelopes, make sure to take advantage of our large-quantity box orders (and take advantage of free shipping when you spend $99 or more).
We can also help you with creating custom envelopes and custom forms to give your professional correspondence some added polish. With questions or custom orders, reach out to our team via email [email protected] or call us toll free at 855-632-8520. We'd be more than happy to work with you on a custom solution for your budget and needs.
---