Wafer Seal Tabs, Postal Sealing Tabs, Envelope Seals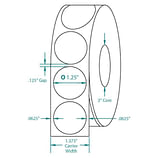 Wafer Seal Tabs: Wafer Labels for Magazines
Make sure your reading materials stay in excellent condition during the shipping process by using wafer tab seals from The Supplies Shops. These postal sealing tabs are a great way to hold the pages of a magazine, booklet, brochure, or periodical together when it is sent in the mail. Available in white and translucent versions, wafer seal tabs can also be placed on an envelope to ensure that mail items are sealed properly and securely. We have options that work with your existing equipment and processes for easy implementation. Whatever your needs may be, we're eager to help you find the right solution at The Supplies Shops.
What Are Wafer Mailing Seals?
Wafer seal tabs are a bit different from other types of tapes or stickers used for mailing purposes. These specific mailing tabs are small, round seal tape adhesives, shaped like a wafer, that are available in a variety of sizes to suit your unique business needs. White or clear mailing seal labels are the perfect solution for mailing brochures and flyers when you want to prevent damage to the pages without using extra packaging. They might also be used as wafer magazine seals or wafer booklet seals. Similarly, the seals can be used for mailing newsletters without envelopes since they hold the pages together to prevent marks, tearing, and other damage. Our mailing tabs secure the item firmly, yet the recipient is still able to easily tear them open to review the mailed brochure. These seals offer an affordable and practical way to mark and secure your mailing items while helping to keep information inside protected during the mailing process.
Wafer Seal Tab Sizes
We have postal sealing tabs in several different sizes at The Supplies Shops to keep your mailings neat no matter their weight or size. When you browse through our options, note that the size listed correlates to the diameter of each tab seal. White and clear round mailing seals come in 1-inch, 1.5-inch and 2-inch options for a size appropriate, professional look. The durable paper stock creates a beautiful printed result, while the acrylic adhesive ensures a consistent and secure seal. Choose clear envelope stickers if you want to allow your graphics to shine through and don't want to risk covering up any important information on your mailers. White seals, on the other hand, can be printed on to add a unique touch to your mailing.
Wafer labels are a breeze to implement into your packing or shipping operations. In fact, many of these round label rolls are equipped with a conveniently sized core designed to work with your label dispenser to make your processes more efficient and streamlined than ever. The high-quality self-adhesive circle labels go smoothly from dispenser or core to fingertips for a simple and hassle-free packing and sealing process. And with a wide variety of quantities and buying options with volume discounts, there's no reason not to stock up now.
Don't See What You're Looking For? Custom Options Available Here.
When you shop at The Supplies Shops, you can be sure that you'll find the best deal on magazine and envelope round seals. In addition, we offer custom wafer seals with your unique designs as another option for customizing your mailings. That allows you to easily add text, logos, or other designs directly to the labels to create a style that's in line with your branding.
No matter what type of label, sticker, or tag you're after, the team at The Supplies Shops can help you find it. If you don't see the exact item you're looking for, don't fret. Our team is staffed by label experts who will happily point you in the right direction or recommend a custom solution that's just right for your business needs. For one-on-one advice, simply reach out to us at [email protected] or call us toll free at 855-632-8520.
---