Pinfed Cards & Dot Matrix Cards — Index Card, Name Tags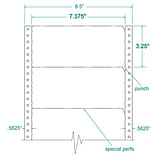 Print Professional Cards with Perforated Card Sheets
Designed for premium print quality, our pinfed cards can help you create clean, professional cards and labels for a wide range of applications. These printable cards are specifically designed for use with continuous-feed printers — including dot matrix printers — and feature tractor holes on the side to ensure quick, hassle-free printing in large volumes. Also known as pin feed printers, continuous-feed printers offer high-quantity printing with minimal jamming, smudging, lifting or curling, making them perfect for any business that produces tags, cards and labels at scale.
Pinfed Cards for an Assortment of Applications
Our dot matrix cards are commonly used in printing barcodes, SKUs, warehouse product locations, product identification and drawer or container content labels. We offer perforated card sheets that help you create custom index cards quickly and affordably. Featuring a durable 100# tag stock, these cards are easy to implement thanks to the pre-perforated edges. We also have sheets designed for creating tags for postal trays, postal mail bags and name badges, with options in both white and colored tags to suit your specific needs.
No matter if you're looking for pinfed index cards, ledger cards, name tags or postal tray tags, The Supplies Shops has a solution for the job at a great price. Don't forget to load up on pinfed cards to enjoy free shipping on your order of $99 or more. Don't see a card that suits your specific job? Remember, our team will gladly go above and beyond for you to ensure that you get exactly what you need. We're even able to produce custom-made labels for your business, if needed.
Have questions or comments? Simply reach out to us at [email protected] or 855-632-8520 and we will happily assist.
---