Numbered & Color-Coded Inventory Labels - Number Labels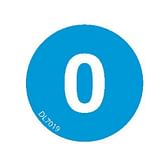 Make sure you stay on top of your inventory at all times by using color-coded and numbered labels from The Supplies Shops. This selection includes labels in a variety of colors and sizes, allowing you to create your own personalized system for staying organized. These labels are great for streamlining your storage or filing system with a numbered and/or color-coded structure. Rather than writing down details on individual inventory labels, numbered, colorful labels can be applied in a simple peel-and-stick fashion.
Choose from labels in black, blue, orange, pink and just about any other color you want. Sizes range from 1" to 4" to accommodate different products and applications. If you can't find what you need in our collection, head to our custom label store to have our designers create something especially for you. Besides labels, we can also create custom envelopes, tape, business forms and filing folders for any project. For questions, please feel free to contact us at [email protected] or 855-632-8520.
---