Year Inventory Labels - Round Year Labels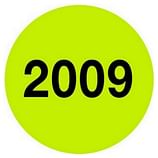 Keep tabs on your inventory according to the date by using round year labels from The Supplies Shops. Year inventory labels are great for keeping track of when something was purchased or warehoused. They can also be used for convenient organization in your filing system when you place labels on folders or documents.
This collection includes brightly colored 2" and 4" circular labels with the year clearly marked in bold letters on each one. The vivid hues help to make these year inventory labels stand out so you can quickly spot the dates as needed. For yearband labels, check out our filing supplies section, where you can find a large selection of labels for filing folders. We also offer the option to create custom labels if you can't find the right design to meet your needs. Learn more about our customization options for labels, tape, business forms, envelopes and filing folders by contacting us at [email protected] or 855-632-8520.
---